Slava's Snowshow

Slava's Snowshow is a performance art show created and performed by Slava Polunin. He is a Russian theatre artist who fuses traditional and contemporary performance arts in clown developing for this show.Slava Polunin is a native of a small town called Novosil which is 225 miles in the south of Moscow. His love for Marcel Marceau and Charlie Chaplin encouraged him to develop a passion for clowning. He underwent training in St Petersburg where he perfected his performing arts skills in mimicry, street performances as well as visual comedy. This prompted him to set up his Litsedei, his first company in 1979. After presenting a sensational performance in Cirque du Soleil's Alegria where he a minor artist, Slave then went on and created his on performance art show, Slava's Snowshow.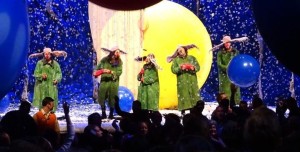 This show has become a multi award-winning show, winning awards like Drama Desk Award for Unique Theatrical Experience, Time Out Award in London and Olivier Award for Best Entertainment. The show was also nominated for Tony Awards for Best Special Theatrical Event. It has brought international awareness, thrilling viewers in more than 120 cities across the world. The show has made appearances in London, Sydney, New York and not forgetting its debut city, Moscow.
This show has been thrilling theatre-goers for more than 20 years. Slava,s Snowshow presents a wonderful fantasy world, which most audiences have never seen, a world where a cobweb cloaks the audience and a small piece of paper starts a heart-stopping blizzard of snow. The show combines hilarity and pathos with spectacular, breathtaking performance at the show. The Slava's Snowshow is a science in which Slava is an expert. The show is always seen to seek a new artistic challenge that keeps the team's stage show attention-grabbing. The show changes direction, style and mood while performing to keep it interesting.
Slava's Snowshow inherits a tradition dated back to the performance art show of ancient Rome and Greece. Therefore, Polunin presents the art of the foreigners. Slava is the figure of amusement in this show and covertly, wisest of all. He performs like a stumbling fool who, as a matter of fact is more dexterous than everyone else. He is fully grown up, but he still retains his child-like sensation and imagination. This show is poetic and emotional, a performing art that turns the natural scene of clowning into a great skill of visual grace. This show has numerous magical transformations and combines slapstick with stunning imagery. It gradually builds towards the triumphant closing sequence which brings amusement to the audience. This show is a visual masterwork adored by children and adults alike.
Slava also uses silent cinema to thrill his audience. He borrows this from Marceau, who was a great artist, who used great magic silence to grab the attention of spectators. He also borrows performing art styles from Jean-Louis Barrat, a French actor and a well-renowned artist.Although the show has been running from late 1980's, it has been reinventing arts now and then. Polunin considers the significance of spontaneity as the key to ensuring that his shows remain creative.